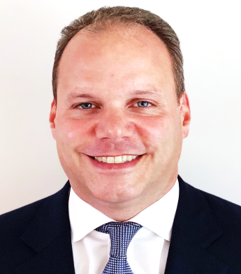 Salvatore Vitale
Managing Director, Underwriting and Portfolio Management
Get to know me
Sal Vitale has served as Underwriting Manager for CIT Maritime Finance since 2017.  In this position, he is responsible for overseeing the underwriting and portfolio management function for the maritime portfolio, having underwritten over $1 billion in new transactions, and having successfully managed over $2 billion of existing loans.

Sal has covered the maritime sector for 20 years.  Prior to joining CIT Maritime Finance in 2015, Sal covered the maritime sector as an Investment Banker and Securities Research Analyst at several investment banks, including ABN AMRO, Deutsche Bank and Credit Agricole Lyonnais Securities.  Throughout his career, Sal has executed transactions across a broad spectrum of corporate and commercial finance, including senior secured loans, high yield and equity offerings, and M&A transactions.

Sal earned a B.S. in Accounting from St. John's University and an MBA in Finance, Accounting, and Economics from the University of Chicago Booth School of Business.
Our approach
Maritime Finance, part of First Citizens' CIT division, offers customized solutions for secured loans to a global client base of vessel owners and operators.

First Citizens Bank helps personal, business, commercial and wealth clients build financial strength that lasts. Founded in 1898 and headquartered in Raleigh, N.C., First Citizens is the largest family-controlled bank in the United States, providing a unique legacy of strength, stability and long-term thinking that has spanned generations. We offer an array of general banking services including a network of 500-plus branches in 23 states; commercial banking expertise delivering best-in-class lending, leasing and other financial services coast to coast; and a nationwide direct bank. Parent company First Citizens BancShares, Inc. (NASDAQ: FCNCA) is a top 20 U.S. financial institution with more than $218 billion in assets. Discover more at firstcitizens.com
Resources
Make sense of the markets. We have our fingers on the pulse of economic growth, investor sentiment and valuation trends.
Start, grow and expand. Our industry knowledge helps you build a long-term approach for successful business strategies.
Check out the full range of commercial financing services offered by First Citizens Bank.